The charm of Bali always makes travellers interested in exploring every corner. Some of the most iconic landmarks and landscapes in the world are here. It is truly a magical island with a lot of ancient sites, natural beauty, and many temples.
If you are planning to visit the island anytime soon, here are some interesting travel spots you should not miss:
Uluwatu Temple
This spectacular sea temple in Bali is located on a tall cliff on the southwestern part of Bukit peninsula. Enjoy the picturesque view during the day from over the temple's walls and cliff boarders. In the afternoon, wait for the most dramatic sunsets for an exotic backdrop.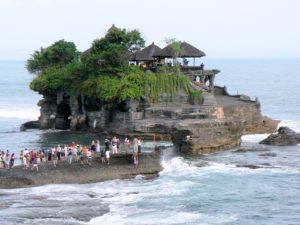 Tanah Lot Temple
Positioned on top of a rock and surrounded by waves of the open sea, the Tanah Lot Temple is an iconic location during the day especially during sunset when the sun creates a picturesque surrounding. This part of the island has the most iconic temples.
Ubud Art Market
This is the place to go if you want to see the traditional market and shopping destinations in Ubud. A known landmark in central Ubud, the market has hundreds of small shops who a variety of items such as silk scarves, lightweight shirts, handmade woven bags, hats, kites, baskets, and a range of handcrafted goods that are popular in the area. You may even feel that you know the place especially if you have watched Julia Roberts movie "Eat Pray Love" where she was seen strolling through the stalls.
Tegallalang Rice Terraces
The village of Tegallalang is located up north from the main Ubud centre. Aside from enjoying the view up from the rice terraces, you can also make friends with the local farmers and go down the trail through the rice fields and greet the farmers and enjoy the paddies at the same time.