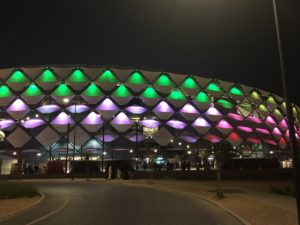 Do you enjoy travelling around major sporting events? There are exciting travel destinations where you can enjoy a particular sport. Here are some of the countries where you can watch and join your favourite sports:
Spain
The Spanish are great ball strategist and if you wish to join them on their next boot camp and learn more about how they play football and even basketball, then why not? You can also join them during the San Fermin Festival where you can run with the bulls and enjoy a party after.
England
Whether you want to go to England for an intensive coaching trip, or just experience the sporting culture, visiting the country will allow you to join the different sports available to them such as rugby, cricket, hockey, football, tennis, and so on.
If you want to watch England at the Rugby World Cup next year, why not have it booked so that you can prepare a sporting holiday worth remembering?
Abu Dhabi
You will never get bored while in Abu Dhabi as you can go ice skating, play golf, or enjoy a number of water sports. If you love spectator sports, you will find that the UAE has its own football league. The country also has its own exhibition matches from overseas teams, which you can watch at Zayed Sports City.
If you are interested in watching Cricket, you can watch the international championship matches at the Sheikh Zayed Cricket Stadium. There are also camel racing, horse racing and show jumping that you should not miss.